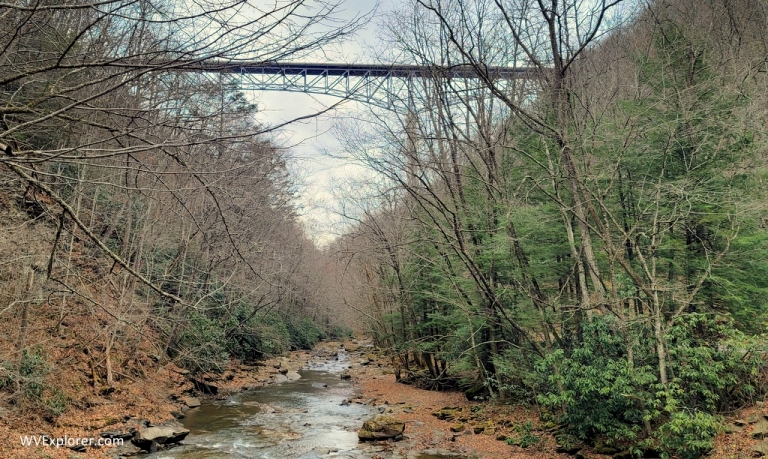 The world-renowned New River Gorge Bridge isn't the only record-holding bridge you can visit in the newly established New River Gorge National Park and Preserve in West Virginia. Another of the highest bridges in the U.S. is located some 20 miles to the south.
The Phil G. McDonald Bridge may be 176 feet lower than the New River Gorge Bridge but is officially the highest bridge in the Interstate System. (The gorge bridge is part of the U.S. Highway System). The McDonald bridge crosses the canyon of the Glade Creek 700 feet above the creek, whereas the gorge bridge crosses the New River 876 feet above its raging whitewater rapids, where rafting outfitters have famously been guiding trips for decades.
The bridges share at least two noteworthy similarities. Both cross scenic canyons within the national park and both revolutionized motor vehicle travel through the central Appalachian Mountains.
The bridge over the gorge opened in 1977—the final piece of the north-south US-19 expressway completed through southern West Virginia. The McDonald bridge opened in 1988, the last piece of the east-west I-64 expressway between the Atlantic Coast and Mississippi River.
The differences between the two are obvious when it comes to construction. The gorge bridge uses a single arch to support its deck, while the McDonald bridge is supported by two very tall piers. The New River bridge is 3,030 feet long, whereas the McDonald is 2,179 feet. The New River Gorge Bridge was notably the world's longest single-span arch bridge for 26 years and is now the fifth-longest.
Both bridges can be observed and studied by park visitors from below; however, the McDonald Bridge is much more difficult to reach and can require a four-wheel drive.
Beneath the New River Gorge Bridge, a paved parkway winds through the gorge, allowing visitors to stop at overlooks and scenic areas between the Canyon Rim Visitor Center, at the north end of the bridge, and the town of Fayetteville, at the south end.
Beneath the McDonald bridge, however, the best views are from trails that wander the canyon along Glade Creek. Here, the seven-mile Glade Creek Trail provides exceptional views accessible to anglers, hikers, and mountain bikers. A steep gravel road leads to its upper trailhead and a view of the bridge there. Motorists should consult the National Park Service beforehand to determine road conditions.
---
Are you planning a visit to America's newest national park? There are countless trails to walk, rocks to climb, and streams to paddle, but there are also three places every visitor should see in the New River Gorge National Park in southern West Virginia. Whether you're visiting for a week or a day, consider visiting these three landmark park resources. Read the full story here.
---
Sign up to receive of FREE copy of West Virginia Explorer Magazine in your email weekly. Sign me up!
Facebook Comments