FAYETTEVILLE, W.Va. — Hiking in West Virginia in winter can prove a transcendent experience. Nothing compares to a stroll through a wonderland of snow and frozen waterfalls. Even in low-lying valleys where snow seldom lingers, a walk through the sleeping landscape can be life-changing.
Winter hiking in West Virginia also presents its own set of challenges. Many trails wander far from human habitation, and because the mountains enjoy good year-round rainfall, trails can grow muddy and streams high. Before you head out, think ahead, and prepare for the unexpected. Here are six tips to help you stay safe on the trail.
---
Never hike alone, and make sure someone knows where you're going
It's best to hike with a partner, especially in winter when the environment can be far less forgiving. Let a friend or family member know when you'll be on the trail and when you expect to return. Give them your planned route. Many phone apps are available to help friends keep track of your whereabouts. Hiking through snow and ice can take considerably longer than usual, so plan accordingly.
---
Beware of reduced visibility
Visibility can be reduced during winter due to mist, blowing snow, and shorter daylight hours. Be sure to take a light, such as a headlamp or a flashlight. Always carry a map and navigation tools, some of which will be available on your phone if you have service on the trail. Not only may the trail be covered in snow, but trail blazes may also be covered by wind-driven snow and ice.
---
Carry the ten hiking essentials
The American Hiking Society recommends what it terms the ten essentials for hiking in every season. These include food, water, shelter, a first-aid kit, sun protection, appropriate footwear, a knife or multi-tool, a map and compass or GPS, and rain gear & dry-fast layers. You'll find more about the ten essentials on their website.
---
Wear proper footwear
Invest in waterproof footwear with good tread or in snowshoes if the snow is deep where you're hiking. Even if it's not icy at home, a well-used trail can pack down into ice. Consider bringing trekking poles to provide extra stability or waiting until the ice clears and the weather warms to embark. Even if it's not icy, West Virginia tends to grow muddy in winter, so waterproof footwear can be handy.
---
Beware of hypothermia
Dress in layers, and bring extra clothes in your backpack. Sweat from exertion is dangerous in cold temperatures, so don't overdress. Some hikers find it's better to hike in the cold wearing less clothing and adding layers as needed. It's also a good idea to pack a space blanket, extra food, and a thermos full of a warm, non-alcoholic beverage.
---
Stay hydrated
It's tempting not to drink as much when cold or to drink only tea, coffee, or hot chocolate. But your body still needs water and electrolytes. Be sure to sip water along the way. Prevent your water from freezing by carrying it close to your body, mixing it with a sports drink, or putting it inside a wool sock. Insulated bottles also help prevent freezing, of course.
---
What if I meet a bear in the woods in West Virginia?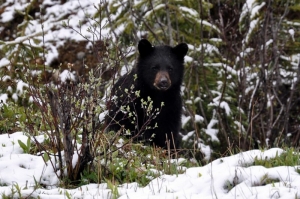 You might have heard that black bears are increasing in population in West Virginia. What should you do if you see one while you're hiking in the woods? Do you need to be concerned? The bear population has been increasing in the Mountain State, but don't let the fear of meeting a bear dissuade me from enjoying the outdoors. No fatal attack by a black bear has ever been confirmed in West Virginia. READ THE STORY HERE.
---
Sign up to receive a FREE copy of West Virginia Explorer Magazine in your email weekly. Sign me up!
Facebook Comments