SENECA ROCKS, W.Va. — The towering blades of quartzite that form Champe Rocks in Pendleton County might seem a world away from the battlegrounds of the American Revolution, but by chance, they are tied to the history of Benedict Arnold, among the nation's best-known traitors.
George Washington himself trusted Arnold with the command of fortifications at West Point in 1780, but Arnold secretly planned to surrender the fort to the British and, when discovered, fled to New York City and boarded a British vessel on the Hudson River.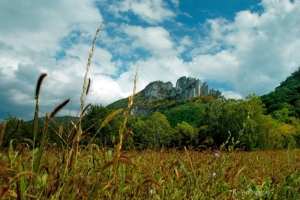 At the advice of Major Henry "Light Horse Harry" Lee, Washington enlisted the help of a young sergeant-major in the Continental Army, John Champe, and bade him kidnap Arnold and return him to the continentals.
Champe's mission was to pretend to desert, board a British ship, and capture Arnold. He departed under cover of darkness but was spotted by a young officer who, unaware of his mission, sent a squad of cavalry in pursuit
He was barely able to reach the British enclave on the Hudson but was soon after that granted refuge and assigned to a group of Tories under Arnold's command.
Champe learned that Arnold customarily walked alone in the gardens outside his quarters at night, which would seem to provide the ideal circumstance in which to undertake his capture. Word was secreted to Lee, who arranged for a boat with two operatives to be sent to aid Champe on the river bank.
However, Arnold and his men were ordered to sail to Yorktown, Va., that night, and the plan was interrupted. Champe escaped and made his way to Lee's headquarters, from which he was escorted to General Washington.
Washington commended Champe for his valor and sent him to the remote valley of the South Branch of the Potomac River, where he would be safe from the British. He was promised land there, though this promise was apparently unfulfilled.
Champe took up residence about four miles north of Romney and there married Phoebe Barnard. (One of their sons, Nathaniel, afterward served as an army officer in the War of 1812.)
In 1788, Champe entered a claim on a tract in Hardy County near the rocks that now bear his name, though he afterward moved briefly to Ohio and Kentucky.
Hampshire attorney Andrew Kercheval reputedly drew up a petition to Congress to redress Champe's wartime promise, but the matter was never acted upon, and Champe is said to have died in dire circumstances in 1804.
The blades of hard sandstone now known as Champe Rocks rise to some 900 feet above the valley of the North Fork of the South Branch and can be viewed along W.Va. 55 about 15 miles southwest of Petersburg, West Virginia, and five miles north of Seneca Rocks, West Virginia.
A smaller series of blades known as Yellow Rocks rise along the same trend about one-mile northeast of Champe Rocks. Like Seneca Rocks, Champe and Yellow rocks also attract rock climbers, but neither of the latter is as easily accessible.
---
Read also: Rock Climbing in West Virginia; Seneca Rocks Climbing Area; Winter's tale recalls deadly aspect of Allegheny Mountains
---
Sign up to receive of FREE copy of West Virginia Explorer Magazine in your email weekly. Sign me up!
Facebook Comments