HILLSBORO, W.Va. — Five hundred miles south of the Canadian muskegs, visitors to the highest mountains in West Virginia may be surprised to find a uniquely similar highland botanical area.
Supported by the cool climate of the lofty Allegheny Mountains, the 750-acre Cranberry Glades Botanical Area includes plants that aren't otherwise found so far south of the Canuck border.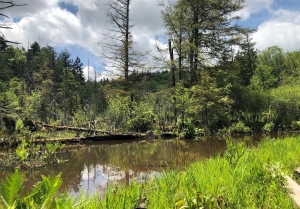 Amid the poorly drained peat bogs best known for their profusion of cranberries, visitors can explore unusual species of plants not found elsewhere in the region, including orchids, sphagnum moss, and two carnivorous species—sundews and the purple pitcher plant.
According to Kelly Bridges, public affairs officer for the Monongahela National Forest, many were left behind as the cold climate of the last glacial epoch retreated north 11,000 years ago.
"The Cranberry Glades are now the southernmost point in North America where some of these life forms are found," Bridges says of the bogs.
The botanical area includes four glades or bogs, two adjacent to a half-mile boardwalk that protects the fragile plant life and allows wheelchair access. Bridges says the boardwalks make observation easier for the more than 30,000 annual visitors.
"It also helps to protect people—because if you were to get off the boardwalk, your feet would get wet, and you might sink down a long way," she says.
The bogs are filled with partially decayed, water-laden plant matter or peat. They are commonly found in glaciated landscapes, and though glaciers didn't reach as far south as what's now West Virginia, their influence spread southward along the Allegheny Mountains.
Bridges says some of the more unusual plants found in the glades are orchids, including the greater purple fringed orchid and grass pink orchid.
"The orchids bloom in late June and early July, and we also do tours through the boardwalk when they're blooming."
While the variety of plant life draws curious visitors, Bridges says she enjoys birdwatching.
I love to visit Cranberry Glades for the birds," she says. "One time, I got to see cedar waxwings migrating through the area. There's a particularly swampy area of the glades right by the boardwalk—a pond essentially. That's a great place to watch birds and other animal life."
Other birds in the botanical area include thrushes, warblers, and finches. Additionally, the wetlands create an environment rich with trees such as oaks, spruces, birches, and hemlocks, along with mosses, herbs, and other ground-dwelling greenery.
Bridges recommends that visitors to the botanical area also stop by the Cranberry Mountain Nature Center, open from April through October. You'll find more information on the Cranberry Glades here.
---
Sign up to receive a FREE copy of West Virginia Explorer Magazine in your email twice weekly. Sign me up!
Facebook Comments