Following a fire that destroyed a remarkable centerpiece of the new West Virginia Renaissance Festival, community leaders in the Greenbrier Valley are rallying to raise funds to assist in its reconstruction.
Alaina Hower, an organizer of a fundraiser to be held March 10 in Lewisburg, West Virginia, is among community members who say the festival is vital to the southeastern part of the state.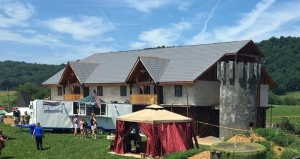 "The inaugural season of the West Virginia Renaissance Festival in June of 2018 was a resounding success," Hower said.
"A quick glance at their Facebook page brings up row after row of glowing reviews from happy visitors to this festival—the only one of its kind in West Virginia."
In its first year, the event attracted many visitors and, despite the fire, the travel industry is enthusiastic about the event in 2019, according to Beth Gill, marketing director for the Greenbrier Valley Convention & Visitors Bureau.
"With only one year under its belt, the W.Va. Renaissance Festival has already become a community-supported event that is attracting new visitors from all along the eastern seaboard and mid-Atlantic region," Gill said.
"It's been encouraging to receive positive comments from performers who stayed last June and attendees who've never been to our area before. Despite this devastating accident, we're confident this year's festival will be better than ever."
Hower and other festival supporters have organized a fundraiser to be held at Hill & Holler Pizza in Lewisburg from 1:30-8 p.m. March 10.
Featuring live music, an hourly raffle of prizes, and a silent auction of donated goods and services from local merchants, the event is also a means of "giving back" to the festival, Hower said.
"In its first year, the Renaissance Festival made it clear that it is—and will be for decades to come—a much-loved and vital part of the valley's cultural fabric and economy. All of us involved want to be able to give back to Taso and Dawn and help ease the burden just a bit," Hower said.
Read Also: Gothic masterpiece rises above Brooke County woodlands; Cook's Old Mill centerpiece of a historic landscape
The festival was the brain-child of Taso Stavrakis and Dawn Kieninger, who recognized the Greenbrier Valley as an ideal location for such a festival.
The fire, flamed by high winds, quickly consumed the Elizabethan-styled timber-framed barn, constructed traditionally using wooden pegs and insulated with straw.
In addition to losing the structure, Hollow Hills Farm, which operates the festival on 300 acres, lost four kid goats and a jersey cow, Hower said.
For more information, please visit the fundraising event Facebook page at "Community Fundraiser for WV Renaissance Festival." The fundraiser is free and open to the public, and donations are gratefully accepted.
Facebook Comments