Seventy-eight percent of West Virginia is forested. That makes it the third most forested state in the U.S. and, some might say, ideally suited to treehouses.
But building an honest-to-goodness house in the trees is no easy task, according to Paul Breuer, who's completed a second such house in the woodlands near the New River Gorge.
"For one thing, a standard house or cabin would be much too heavy for trees," says Breuer, tugging one of many knots that secures a sturdy rope footbridge to the new house.
"Everything here had to be tested again and again to ensure it was light enough—yet strong enough." Nothing could be left to chance. In these circumstances the structural integrity of all building materials was being tested.
Breuer and his wife, Jennifer, the owners of Country Road Cabins, worked to ensure this, their second treehouse would include as much window-space as possible. Inspired by their love of Tuscany, its design called for a warm, sunny interior.
But that meant it would need larger windows, and larger windows required that the walls must bear a greater structural burden. So standard engineering schemes were of little use. Nothing about the construction was simple—as simple as the little house appears.
Builders were required to find lightweight materials that were sturdy and insulating. Heating and cooling systems had to be compact, lightweight, and efficient. The 750-pound, 44-foot steel main beams had to be zip-lined into place from 300 feet away.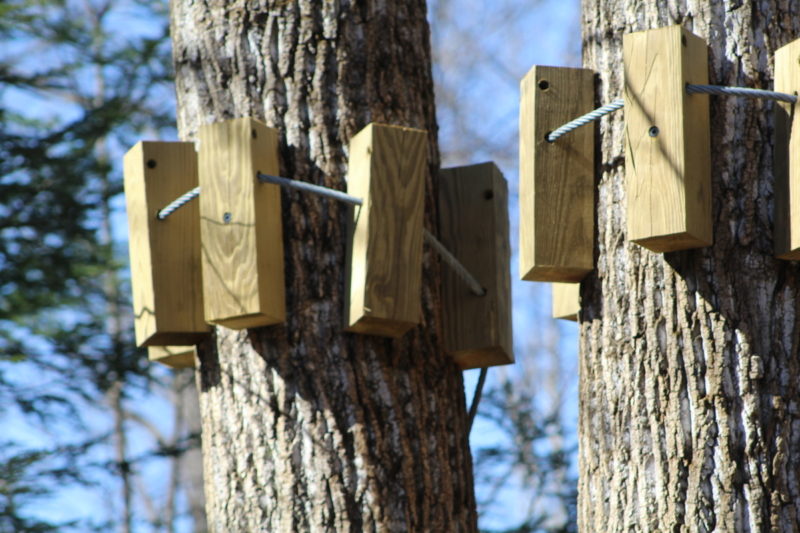 Another important building consideration—trees move, and they can move a lot during a storm. The Breuers had to determine how to manage the problem, though guests thrill at the sensation as the trees slowly sway.
"Guests love the movement," Breuer said. "It's unique, though the trees move more than the actual structures."
The Breuers were able to build on what they learned building the smaller one-room Holly Rock, allowing them to increase the house's size. The Tuscany is a small family-friendly retreat with a sleeper sofa and a separate Queen pillow top bedroom.
Despite all the work, Breuer says he's ready to help build more treehouses on the 109-acre Country Road development.
"We have picked out four more sites," Breuer said, though he hopes to sell each as a homesite rather than build an additional treehouse.
"It takes months to find a good tree and a utility-viable site, then we have an arborist confirm the health of the trees. Then the survey starts, then the engineering, then permits for septic, electric, and building."
"We may consult, but we are wanting to sell—so no more building. We will point out the potential sites to a confirmed buyer."
Breuer can, of course, offer anyone interested in building a tree-house in the area a list of now-experienced contractors.
Bill Bihler was the consulting arborist, and Larry Gertsner the site locator and engineer, Breuer said. Steel used in construction was fabricated by Beckley Steel and welded by Amick Welding.
Mike Amick was the building contractor, Breuer said. John Darrow managed the installation of utilities, Hank Seay installed the electric, and Allen Stover of AWS Plumbing managed the plumbing. Ken Miller and sons installed the the HVAC, installing an advanced mini-split system.
The hemlock beams and siding were provided by Allen Rice of Wilderness Timber, of Nallen. Windows were made by Crown Windows, of Oak Hill, and furniture was provided by Home Furniture, of Beckley. The structural insulating panels were engineered and built by Acme Panel, of Salem, Va.
David Bassage and crew installed the pre-stained siding, and John Weatherford and friends became the tree-steel-setting and hot-tub setting crew. Jennifer Breuer designed the interior decor, and Breuer himself acted as general project manager.
The Tuscany, the Holly Rock Treehouse, and eighteen other luxury cabin rentals are available for rent year-round.
Facebook Comments