Now in its sixth year, Thurmond Train Day is growing ever-more popular as visitors to the ghost town in southern West Virginia explore its historic landmarks and discover more about railroading history and present-day railroad safety.
More than 600 people attended last year's event, drawn largely by the opportunity to visit Thurmond, West Virginia, at a time when activities there are at a peak, according to Jodi French-Burr, a ranger with the New River Gorge National Park and Preserve.
"The town itself certainly draws many of the people who attend the event," says French-Burr.
"It's a great time to explore its history and to learn safety tips for living and recreating in areas near railroad tracks and crossings."
As with many towns in West Virginia, a railroad runs through its main street, creating safety concerns that are being addressed nationally through Operation Lifesaver, a co-sponsor of the event in concert with the National Park Service and the National Coal Heritage Area.
From 10 a.m.-3 p.m. July 20, Thurmond Train Day will feature half-mile walking tours that explore the town and the railroad that created it.
Rangers will guide tours of Thurmond's commercial row and will begin at the Thurmond Visitor Center at 11 a.m., noon, and 1 and 2 p.m. A special extended town tour will leave from the depot at 2:45 p.m. and will include a stop in the community church.
Special activities for children will include story-telling sessions, railroad exhibits, and the opportunity to have their picture taken on a historic railroad handcart, a copy of which they'll receive in a framed photo to take home.
All children attending the event will be able to participate in a junior ranger activity and will have an opportunity to earn a National Park Service Junior Ranger badge.
Thurmond's resident goats will be around town, too, nibbling away at vegetation that in recent years had threatened to overwhelm part of the historic landscape.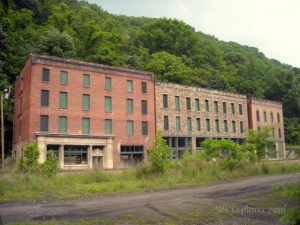 Operation Lifesaver will provide educational materials, displays, and video presentations that emphasize the value of rail transportation and promote rail safety.
The Thurmond Depot Visitor Center is open daily through Labor Day from 10 a.m. to 5 p.m.
Park information and tools to help plan a visit to the national parks of southern West Virginia are online at New River Gorge National Park and Preserve, Gauley River National Recreation Area, and Bluestone National Scenic River.
Facebook Comments