With constant digital distractions and over-programmed schedules, kids are not as wild as they used to be, and that can affect their lifelong mental and physical well-being, says a spokesman for one of West Virginia's largest adventure resorts.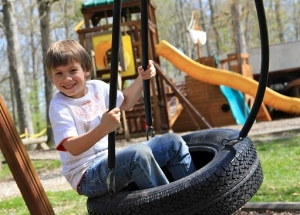 With nearly four decades in the forefront of the rafting and outdoor recreation industry, Dave Arnold has watched it happen. A co-founder of Adventures on the Gorge, a leading adventure resort in southern West Virginia, he says he believes youngsters are more tentative in natural settings than ever, and he also believes there's a fix that can be life-changing and fun for the whole family.
Recently named one of the top adventure resorts in the country by U.S. News & World Report, the resort near Fayetteville offers an array of adventures from whitewater rafting to rock climbing, and many of the activities can be enjoyed by young kids.
Children as young as six can go rafting, for example, and can safely try the various obstacles on an aerial adventure course.
"One of the most powerful and potentially life-changing gifts a parent can give a child is to unplug them from their devices and encourage them to be wild," Arnold said.
"Like skiing, whitewater rafting, rock climbing and other adventures can be learned and appreciated at a young age, and the sooner parents introduce their kids to these activities the likelier kids will become adventurous for life."
Here is a line-up of recreational opportunities for children at the resort, according to Arnold:
Whitewater Rafting
The New River is famous among adventurers for having some of the best whitewater rafting in the country.
Six and Up. The good news for rafting novices and kids age six and up is that the Upper portion of the New River features Class I-III rapids suitable for first-time rafters as well as those who prefer a more relaxed adventure experience. Groups can enjoy slow water interspersed with periods of manageable rapids and opportunities to use inflatable kayaks known as "duckies." A bonus is AOTG's "Almost Seven" promotion for six-year-olds who raft for free on the Upper New.
Eight and Up. An easy step up from the Upper New is the Glade Creek Canyon section of the New River, complete with a nature hike to a beautiful waterfall and swimming hole. The rafting here is a just little quicker with a minimum age of eight.
Nine and Up Family Trip. When rafters are at least nine years old and water levels are low enough, the Family Lower New trip becomes available. This trip features oar-mounted boats so that guides control larger rafts and kids get a taste of what awaits them when they turn 12.
Twelve and Up. With rapids ranging from Class I through Class IV, the Lower New is West Virginia rafting at its best.
Fourteen and Up. Teens who are ready for a bigger and wilder rafting experience can enjoy the Lower Gauley River in the fall. This 12-mile section of river includes several Class III-V rapids.
Fifteen and Up. Teens who are good swimmers and have some rafting experience are ready for the Gauley in the spring or summer. The Gauley River is characterized by multiple heavy rapids requiring tight, technical maneuvering. If teens are seeking even more adventure can earn bragging rights rafting the river during the fall "Gauley Season," when water released from the Summersville Dam, creating the "Beast of the East," with numerous Class IV and V rapids. Adventures on the Gorge offers several Gauley River rafting adventures including the Gauley River Overnight, a two-day expedition that includes overnight camping and gourmet food at the resort's Canyon Door campground.
Aerial Adventures
Six and Up. The resort offers a wide range of aerial adventures appropriate for kids. With a minimum age of seven, TimberTrek Aerial Adventure Park features five increasingly challenging courses with 60 platforms as well as bridges, zip lines and crazy obstacles that challenge agility and strength. At night, the resort lights up the course and calls it Moontrek.
Ten and Up. The TreeTops Canopy Tour has a minimum age of 10 and features 10 zip lines and five sky bridges. TreeTops meanders through an Eastern Hemlock forest. The BridgeWalk features a 3,000-foot-long catwalk under the New River Gorge Bridge with heights topping out at 852 feet. The minimum age is 10.
Twelve and Up. Gravity Zip Lines with a minimum age of 12 is a seasonal operation that opens in the spring when the conditions are mild. Guests travel up to 50 miles per hour above the tree line for the first zips, and the experience culminates with the AdrenaLine, a dual-racing zip line where guests can travel up to 60 miles per hour on this line.
Kids Camp
While parents and the older kids are running the river or zipping through the forest, kids at least five years old can enjoy half- or full-day sessions at the Kids Camp. Instructors stress fun activities as the group plays while enjoying arts and crafts, the playground, scavenger hunts, hikes and the Canyon Falls swimming pool.
Biking
Ten and Up. A Guided Mountain Biking tour is a good choice for beginners and experts alike. Tours are customized for the individual needs and interests of cyclists. There's also a two-hour guided evening tour.
Sixteen and Up. Older teens can experience the thrill of mountain biking on electric-assist Fat Kat mountain bikes, with top speeds of more than 20 miles per hour on flat terrain.
Rock Climbing/Rappelling
Eight and Up. The New River Gorge is home to numerous cliffside climbing routes for beginners and experienced climbers alike. Guides provide gear and instructions. Adventures on the Gorge offers guided two-hour evening, half- and full-day tours.
Multi-Sport Lake Adventures
Eight and Up. A pontoon boat serves as a floating island on Summersville Lake and the launch pad for lake adventures including stand up paddle boarding, rock climbing, kayaking and swimming.
Fishing
Eight and Up. Float fishing on the New River is a fun and easy way to experience the beauty of the New River Gorge and the thrill of casting for smallmouth bass. The resort offers half-, full- and two-day float fishing trips.
Twelve and Up. Beginning anglers can learn a new and enjoyable skill with the resort's half-day Learn to Fly Fish adventure available throughout the summer and fall.
Battle Games
Ten and Up. The resort's two-hour laser tag and evening paintball games are way more fun than video games, and they will keep kids moving, thinking and laughing while they battle for bragging rights.
Facebook Comments