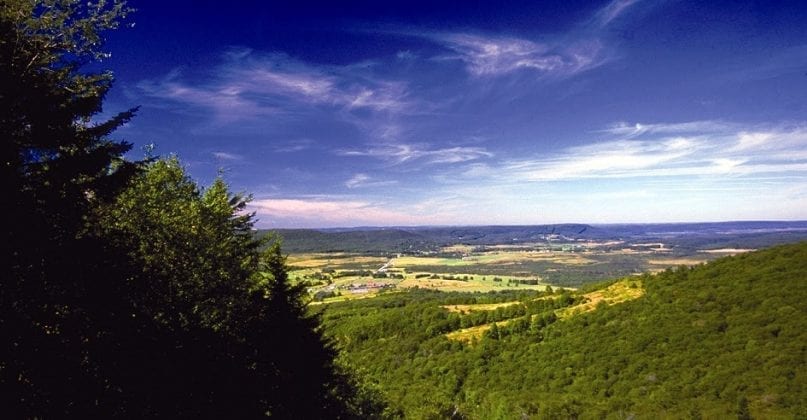 From a festival dedicated to avian species of the Alleghenies to a two-day celebration of native Irish road bowling, many "cool" opportunities beckon travelers to the upland Canaan Valley Resort in June, according to Steve Drumheller, its general manager.
Locals like Drumheller, a long-time resident of the valley, say June is one of the most pleasant months of the year in the valley amid some of the highest elevations in the Mid-Atlantic states, with warm but not-too-hot temperatures and lots of sunshine.
Situated in the wildlife-rich Canaan Valley, surrounded by mountain peaks rising 4,300 feet above sea level, the state park has been adding to its facilities and event offerings since $134-million renovation in 2013 added two wings, 160 guest rooms, and cabins, campsites, and meeting and event facilities.
Special Events in June
Canaan Valley Birding Festival, June 1-4 – One of the biggest events of the year, the annual Canaan Valley Birding Festival celebrates the region's vast array of bird species with programs for all levels of birders and nature lovers. The festival includes a variety of guided walks with expert birders as well as receptions and special presentations. The resort offers lodging packages that include accommodations, as well as selected events and some meals.
Blackbird Knob Hike, June 10 – The guided, six-mile, physically challenging hike between Blackbird Knob and Canaan Valley offers spectacular vista and high-meadow views. The resort offers a shuttle from the main lodge at 9 a.m.Guests are encouraged to pack a lunch, snacks and water. The cost is $15 per person, and the hike is limited to eight participants. Pre-registration is required.
West Virginia Days Celebration, June 16-18 – Canaan Valley Resort's three-day celebration of the anniversary of West Virginia's statehood includes a Civil War encampment and re-enactments, field games and crafts, mock battles and wagon rides.
Irish Road Bowling, June 18 - Although the sport of road bowling originated on Ireland's rural, winding roads more than 300 years ago, West Virginia's country roads are just as curvy, and its hills are just as green, which lend authenticity to the sport. There's even a West Virginia Irish Road Bowling Association, which officiates the highly competitive but easy-to-learn sport. This event takes place at Canaan Valley Resort and nearby Blackwater Falls.
Stay and Save at Canaan Valley
The resort also offers an array of lodging specials. A new special just for the month of June includes a 20 percent savings off the standard rate on selected dates and a 25 percent savings for guests staying two consecutive dates. There are also deals for guests who are 60 years or older, families with smart kids, members of the military and stay-cationers seeking a quick getaway.
Canaan Valley Resort's offerings also include the restaurants, lounge, fitness center, indoor and outdoor pools, 18-hole championship golf course, tennis court, miniature golf, horseshoe pits, playground, sand volleyball court, soccer field, basketball court, corn-hole toss, Eurobungy, scenic chairlift, Turtle Slide Tube Ride, climbing wall and sporting clay range (one of the few in West Virginia).
Canaan is three hours from Pittsburgh, 2½ hours from Washington, D.C. and 2¾ hours from Charleston, W.Va. The drive from D.C. to Canaan Valley has recently become quicker and easier with the near-completion of the section of "Appalachian Corridor H" in West Virginia between the towns of Bismarck and Davis.
For more information, visit the website or call 1-800-622-4121. Travelers can connect with Canaan Valley Resort on Facebook, Twitter and Flickr, and by signing up for special email offers and a blog.
Facebook Comments