In the summer of 1918, a procession of billions of ravenous "worms" passed through the hills of eastern Wetzel County, wreaking havoc wherever it wandered. Some who saw it claim to have been attacked in the march. Others to have lost crops and, seemingly, cattle.
Thanks to the Internet, today such events are more widely known, but at the time the march of worms was nearly apocalyptic. The following was recounted in the Fairmont-West Virginian on July 13, 1918.
---
WORM INVASION!
A huge mass of large yellow worms said to be not less than three miles long and 100-yards wide is crawling toward Littleton in Wetzel County, W.Va.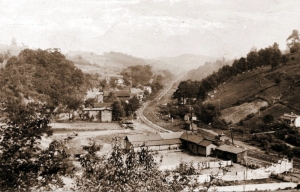 The Fairmont newspapers inform that on Sunday morning, June 31, Milliard McDougal, a well-known county farmer, woke to find millions of worms heaped high against the side of his house. Since then, the worms have hidden many buildings from view simply by crawling over them.
Jim Fox, another Wetzel County farmer, was forced to stop plowing when he and his horses were attacked by the worms. Hundreds, perhaps thousands of people from Littleton and elsewhere have been traveling on foot, on horseback, by teams and buggies and wagons, and in automobiles, to see the weird worms as they wiggle and stretch and creep and crawl westward across Wetzel County.
One newspaper report is to the effect that it requires three days and two nights for the worms to wiggle past a given point. The mass is at some places a foot thick. It covers completely the hills and hollows and level sections over which it moves.
So far, though—and thank the Lord for it!—the worms have done no visible damage. They seem not to eat anything, and some observers believe they are crawling to commit suicide and will pile themselves up and die.
Stock will not eat any grass the worms have crawled across, and chickens will not eat the worms. It is the deepest mystery that ever occurred in this country. The worms are about two inches long and one-eighth of an inch in diameter. They are a bright, brownish-yellow, in color, and they have hundreds of legs, it seems.
Where did the weird worms come from? Where are they going? Will they eventually destroy Wetzel County, as some observers believe?
Read also: Little girl saved train on the little-known Short Line in 1902
Prof. Peairs, a university entomologist, does not know why the weird worms march. He has visited Wetzel County for a first-hand look and says:
"Ordinarily, this type of worm does not venture into open country. It does not feed on any food that people eat but subsists entirely on decayed vegetation, rotting logs, and stumps, leaves, etc. It lives in shady, damp places, and will soon perish without abundant moisture."
The professor says he never heard of the worms appearing in such great numbers and is at a loss to understand how such a thing could happen. He states that, indeed, the march of the weird worms is phenomenal and unique, and that nothing like it has ever been known before in his experience.
The march, however, has finally stopped, and most of them along the way are dead and lying in heaps along the railroad. Prof. Peairs says there is very little recorded information about these worms. Their scientific name is, the professor says, "polydesmus."
---
Storied West Virginia monument stands forgotten in woods
Finding it on a map is difficult. Hiking to it is even harder. But on a wooded hillside at the southwest corner of Pennsylvania stands a weathered monument that establishes West Virginia's singular northern panhandle. Some say it's a site that every panhandle resident, and every West Virginian, should see. Read the full story here.
---
Sign up to receive a FREE copy of West Virginia Explorer Magazine in your email weekly. Sign me up!
Facebook Comments