Satellite-based broadband is allowing telecommuters to settle in even some of the most remote areas in West Virginia. The revolutionary development is changing the face of the chiefly rural state at the center of the eastern U.S.
"What's happening now in West Virginia is revolutionary," says David Sibray, the publisher of West Virginia Explorer Magazine and a Foxfire Realty agent who specializes in marketing rural and recreational properties.
"Thanks to Starlink and other broadband initiatives, West Virginia is welcoming thousands of new residents who are well-educated and affluent. There will be growing pains, yes, but I can't imagine a more positive future for the state."
Nate Adams, who is among the state's new residents and a Starlink user, says the technology is enabling remote work across West Virginia. An expert in home heating and cooling systems, Adams is popularly known as The House Whisperer and travels the country lecturing on atmospheric control.
"My wife, Rachel, and I moved to the New River Gorge two years ago from the Cleveland area. Her family is from West Virginia and eastern Kentucky, we've been traveling here for short trips for years and planned to retire here, but we moved our timetable up to—well, now," Adams says.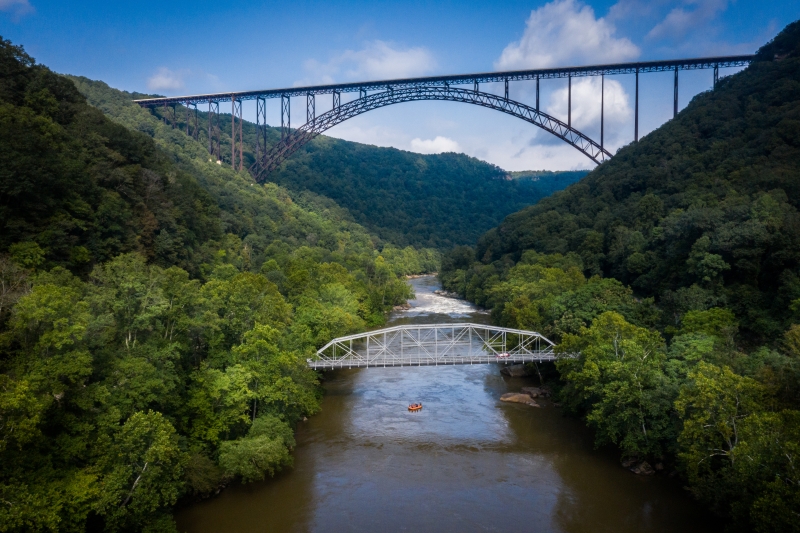 "The biggest reason we could? We both work remotely, and there's fast internet here. Now there's an option for remote workers like us that want to live in a beautiful place but require a good internet connection—Starlink."
Launched in 2019, Starlink is a satellite internet service provided through Elon Musk's SpaceX. It works nearly anywhere in the world and accommodates speeds of up to 150 megabits per second.
"It can even be used in an RV if you travel the country, which we plan to take advantage of this fall, and some visiting friends did last summer," Adams says. "It's a great solution for remote workers in remote areas."
Adams says Starlink also performs well in rural areas, as opposed to densely populated areas, which is an additional incentive for new state residents moving in from cities.
"Only so many people can connect to one satellite, so you're limited on how many users you can have. This mainly affects densely populated areas where Elon has said that regular wired internet is likely to remain the best choice. For rural areas though, it's a much smaller problem," Adams said.
The other limitations are requiring a view of the sky and the effects of weather.
"I first bought our Starlink for our home in Ohio that backs up to the upper Cuyahoga River," he said. "Starlink needs a pretty good view of the northern sky to be able to stay in contact with the satellites that are continually moving, and the treeline on the river precluded that."
Upload speeds are a bit slow compared to wired 1 GB internet, Adams said. "You can solve this by putting the dish high in a tree or clearing a spot for it, but not all properties will be well suited."
"The other issue is weather—snow and rain. Starlink has the snow problem solved: the dish can make enough heat to melt snow. For rain, it's really only affected by strong downpours. Those are the only times we've lost connection—typically only for 5-10 minutes," Adams said.
"Overall, though, it's a great option for those that want to move here or better yet for locals that want to get a good remote job but keep living in our beautiful state."
Sibray said many new residents he works with are using Starlink and other land-based broadband systems and he's working with as many providers as possible to predict technological changes that can benefit clients.
"As a result of all this, we're able to bring buyers to the table who are able to buy remote and rural properties that until now were too isolated to fare well on the market, but all that's changed," Sibray said.
---
Sign up to receive a FREE copy of West Virginia Explorer Magazine in your email weekly. Sign me up!
Facebook Comments