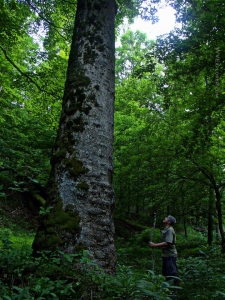 The Hughes River is a principal tributary of the Little Kanawha River that drains part of northern West Virginia (WV). Eighteen miles upstream of its mouth, in Wirt County, the river divides into its northern and southern forks.
The 57-mile North Fork of the Hughes rises in Ritchie County near the community of Mountain, West Virginia, and flows southwestward, passing through North Bend State Park, where it has been impounded as North Bend Lake. The 54-mile South Fork rises in western Doddridge County and flows westward through southern Ritchie County. Much of the drainage of the Hughes is rural and forested or in farmland.
Hughes River Recreation
The Hughes River and its forks are popular fishing streams and popular destinations for outdoor recreation. Much of the lower river below its forks flows through the Hughes River Wildlife Management Area. The Ritchie Mines Wildlife Management Area protects a range of ridges north of the south fork on MacFarlan Creek. North Bend State Park and the North Bend Rail Trail are so-named for the north bend in the north fork of the river near Harrisville, West Virginia. The river is a renowned fishery for sunfish, muskellunge, flathead and channel catfish, and rock, spotted and smallmouth bass.
History of the Hughes River
Frontiersman Jesse Hughes discovered the river while exploring the valley of the Little Kanawha River in 1772. Critics of Hughes petitioned to rename the river "Junius River," honoring an 18th-century British critic, Junius. The lower reaches of the river and its forks descend through the Volcano and Petroleum oilfields.
Hughes River Communities
From source to mouth, the following select towns and villages are located on or near the Hughes River and its forks.
Mountain
Tollgate
Porto Rico
Hazelgreen
Berea
Prunty
Smithville
MacFarlan
Cisco
Freeport
Greencastle
Name Origin
The river was discovered by Jesse Hughes and was named Hughes River by Hughes. Hughes lived on Hacker's Creek in Lewis County.
Regional Information
Information on lodging, dining, and recreation on and near the Hughes River and its forks may be found in our guide to travel in the northern Heartland Region in northern West Virginia.