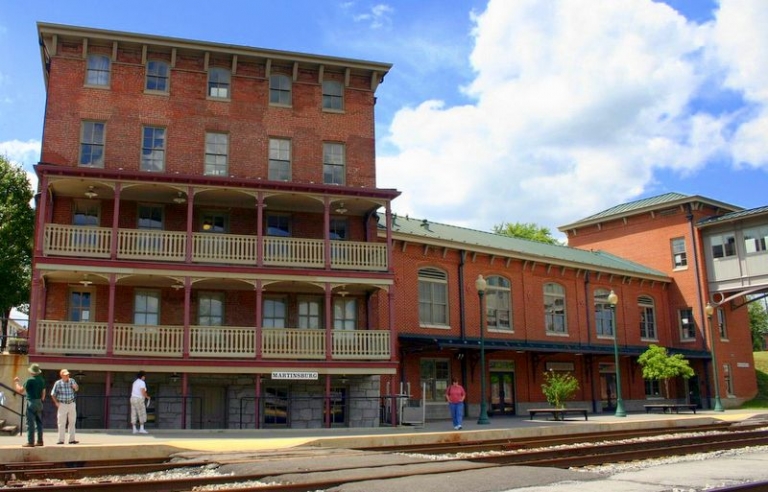 West Virginia Governor Jim Justice announced today that the state has reached an agreement with Maryland to continue the Maryland Area Regional Commuter Train service to the Eastern Panhandle.
Justice made the announcement while visiting the Martinsburg Railway Station—the westernmost terminal of the MARC Train system—and joined other state and local government leaders who helped secure the $3.4 million requested by the Maryland Transit Administration to continue service in West Virginia for the next year.
"I am grateful beyond belief to all who had a hand in pooling together the funding that we needed to keep this vital connection between our state and Washington, D.C., alive," Justice said.
"Hundreds of West Virginians and several businesses use this important service every day, and I'm fully committed to keeping it running in our state for many years to come."
Municipal leaders from the Eastern Panhandle communities of Ranson, Bolivar, Charles Town, Martinsburg, Harpers Ferry, and Shepherdstown helped support the effort along the Jefferson County Commission and the Berkeley County Council.
The governor and his chief-of-staff, Mike Hall, worked alongside the West Virginia Legislature and the West Virginia State Auditor's Office to secure funding for the initiative.
Justice and other West Virginia leaders are in ongoing contract negotiations with the MTA to reach a multi-year agreement.
"My administration is committed to finding a permanent funding solution," Justice said. "We realize that our Eastern Panhandle is an economic driver in our state and the MARC Train is a big part of that."
The Governor has also directed Tourism Commissioner Chelsea Ruby to research and pursue increasing tourism-related MARC Train ridership in West Virginia.
---
Widely considered one of the most important railroading landmarks in the U.S., the Baltimore & Ohio Railroad complex at Martinsburg exemplifies the form-follows-function principle of building design. It's beautiful. It's practical. And it's one of the most important historic buildings in West Virginia, a virtual cathedral of industry. Read the full story here.
Facebook Comments