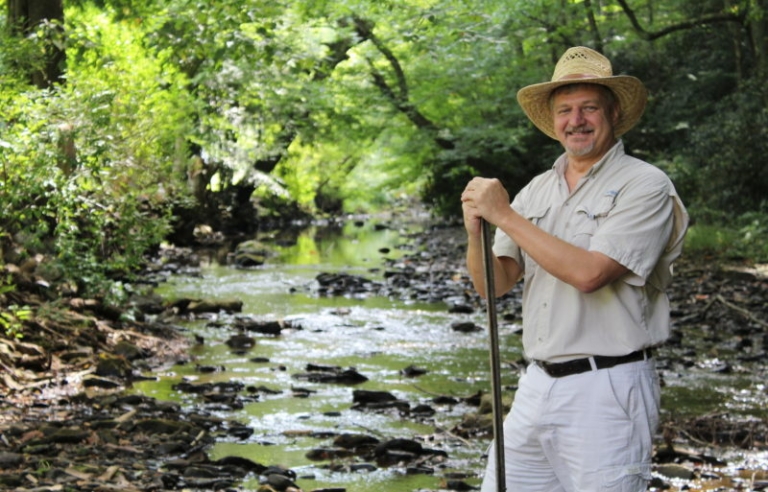 Twenty years ago today, David Sibray pushed a button on a computer and changed the way West Virginia was marketed. He established something entirely new—the West Virginia Explorer, an online guide to the Mountain State, one of the chief guides to West Virginia travel.
"I wake up every morning knowing that I have the ideal job for me," Sibray said. "Each day I get to promote some aspect of West Virginia. It's how we've weathered storms for 20 years, though at times we've nearly foundered, and that's how we've grown into a secure, investible concern."
Watching lines of data scroll across a monitor in front of him, Sibray reads through website traffic reports, as he does nearly every morning over coffee.
"Stupendous! Even after 20 years, we're promoting the state more successfully than ever before," he says.
"This advertiser's banners have appeared 1,626,415 times over the last five months, for instance. That means a lot to marketers of tourism who are trying to establish a brand."
Though being the publisher may look like a non-stop adventure in the mountains, behind the scenes the adventure is about bringing in the numbers needed to build the tourism economy in West Virginia.
"Over the past year ending in November, we've helped 1,559,940 people discover West Virginia on 4,768,792‬ occasions. That's a lot of traffic. An amazing amount, really, and we're on track for triple-digit growth this year."
A publisher of print magazines before the launch, Sibray says that while establishing the W.Va. Retirement Times in 1996, it occurred to him that publishing online would allow him to reach farther than print publications—a truth that plays out today.
"There was no model to follow, so that was disquieting, but that helped limit our competition. For the first few years there were only three chief marketers of West Virginia tourism—ourselves, Citynet, and the state Division of Tourism," he said.
Jonathan Moore, who has been a technical director for the publication since its inception, said Sibray's dedication is part of what's kept him on the team.
"When I first met him and walked into his office, I knew he was onto something, and it was obvious he was dedicated to West Virginia," Moore said. "I said to myself, 'This guy really loves West Virginia.' "
But Sibray says much has changed since that time, and the going has not been easy. The Web-based playing field has transformed, and seven years ago the company entirely collapsed and had to be rebuilt over a period of years.
"There's now tons of competition, mostly from outside the state, and for years there had then been no social media, and we've had to collapse and rebuild twice. Then I had to learn how to be a businessman, as well, rather than just an editor."
The magazine's regular clientele searches again and again for information among its thousands of pages and ancillary websites, and its largest audiences are principally from well-outside the state, which is where many of the tourism dollars are to be found.
"Washington, D.C., is our top audience, representing seven percent of all we bring in," he said, "the Charleston metro is second, and here, New York City is our third largest. Had we tried to do this in print, I doubt we'd be reaching all these audiences."
Andrew Smith, executive director of the Braxton County Convention and Visitors Bureau—travel bureaus are among the site's chief advertisers—attests to the reach of the magazine, the traffic from which he tracks regularly.
"It's been one of the most effective yet inexpensive marketing venues with which we've ever engaged," Smith said.
"The amount of impressions and click-throughs to our website has far exceeded what we expected before signing on. I have not found any other content-driven advertising opportunity that offers this kind of flexibility and trackability."
Sibray says he's excited about the future and expects the magazine at WVExplorer.com to be in publication for another 20 years, whether he's around or not.
"I was a brave young 34 when we launched," he says, "and I'm now a careful, enthusiastic 54. Will I be doing this at 74? Hopefully, I'll be watching as an engaged investor at that point, but I can say this much: interest in West Virginia is growing, and I don't see that stopping. We have a bright future ahead of us."
Facebook Comments