One of the richest aspects of history in southern West Virginia involves coal mining. Following the Civil War, coal production in much of the region boomed. Railroads were soon built along the New, Coal, and Guyandotte rivers to transport the coal out to mills in the Ohio Valley.
Coalfields were plentiful throughout the mountains, and towns formed around them where miners lived and worked. However, as the coal seams were depleted, the towns that sprung up around them were abandoned, leaving ghost towns in their wake.
These ghost towns are a slice of West Virginia and U.S. history. If you're interested in learning more about West Virginia, these eight former towns are worth a visit.
---
Kaymoor
Located along the New River Gorge, the Kaymoor No. 1 mine was one of the most productive coal mines in the gorge. Between 1900 and 1962, miners brought 16,904,321 tons of coal out of Kaymoor.
Kaymoor is now part of the National Park Service's New River Gorge National Park and Preserve. It is only accessible by hiking the Kaymoor Trail. Once there, you can descend 821 stairs to get to the old mines and another 400 steps to the railroad level.
While visiting Kaymoor, be sure to check out the historic signs that are still hanging. These signs contained warnings for miners, encouraging them to stay safe and avoid accidents.
---
Dun Glen
Located 700 feet above the New River, Dun Glen may have last been inhabited in 1935. When it was still an operational mine, Dun Glen was only reachable through a tramway and primitive wagon roads.
Since it was abandoned, Dun Glen has been largely unreachable. That changed in 2018 when the National Park Service began building a trail from the valley below Thurmond to the Summit Bechtel Family National Scout Reserve. If you are willing to hike the trail, you'll be able to see the ruins of the town and the Dun Glen cemetery. Read also: Ghost town hidden in W.Va. may soon be accessible to hikers
---
Nuttallburg
Nuttallburg was formed in the late 1800s by British entrepreneur John Nuttall, who saw promise in the coal-rich New River Gorge. It quickly became a bustling mining town, shipping "smokeless coal" to industrial cities.
By the 1920s, Nuttallburg received national attention when Henry Ford leased the town's mines to provide coal for his company's steel mills.
By 1958, Nuttallburg was abandoned as the demand for New River coal declined. Today, the ghost town is part of the National Park Service, accessible by car. It is a national historic site and considered to be one of the most complete coal sites in the United States.
If you visit Nuttallburg, be sure to check out Nuttallburg's African American community as you drive to the Canyon Rim visitor center. When you reach Nuttallburg, you can view the old coal processing sites, the mine, and the homes located throughout the town.
---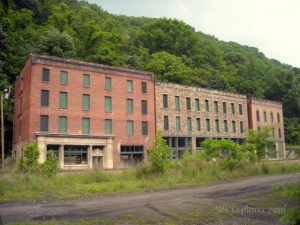 Thurmond
Thurmond is not technically a ghost town, as it has five permanent residents who account for the town's municipal government. Even so, it is a fascinating example of an abandoned West Virginia coal town where you can see old buildings and railroad structures as you wander.
As with many other ghost towns on this list, Thurmond is part of the National Park Service. It was once a classic boomtown, with as many as 95,000 train passengers coming through each day. When American railroad companies switched to diesel engines, however, Thurmond's railroad depots - which were built for steam engines - became obsolete.
---
Sewell
This hard-to-find ghost town is worth a trip if you're interested in how coal was turned into industrial coke (a more clean-burning fuel) in West Virginia. Accessible through the Babcock State Park, you can see the ruins of the more than 50 coke ovens that were built in the town in 1874.
Sewell was the first mining operation to experiment with coke ovens. Its ovens were the last to burn in southern West Virginia, in operation until 1956 - when the town began to shut down. In Sewell, you can see historical buildings, the coke ovens, old mining equipment, and more.
---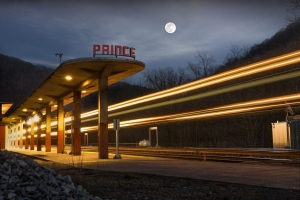 Prince
Prince was first formed in 1870 when William and James Prince purchased 300 acres along the New River Gorge. This town was never a mining town, but instead a place of commerce for the mining towns on Laurel Creek and Piney Creek. When the Chesapeake and Ohio Railroad built a line through the town, it flourished.
As the coal towns in the region were abandoned, Prince also found itself floundering due to lack of trade. Today, you can visit Prince via Amtrak.
---
Stotesbury
Stotesbury was once a thriving town, named after Edward Stotesbury, president of the Beaver Coal Company. Over more than 90 years, miners worked in the Beckley, Pocahontas No. 3 and No. 4 seams. In the 1980s, it became one of the first longwall mines in the area. By 2002, however, the mine shut down.
Although the mine operated until the turn of the century, the town of Stotesbury itself became a ghost town after the original mine was closed in 1958. Today, you can see abandoned company houses, separate churches for Black and white miners, and mining equipment throughout Stotesbury.
---
Quinnimont
Quinnimont is another ghost town that is currently located within the New River Gorge National Park. Named for the five mountains that surround it, this town was the home of the Quinnimont Charter Oak and Iron company. At its peak, Quinnimont had a population of 500 people, and a railroad depot with daily trains to Beckley and Layland.
By the 1950s, Quinnimont - like many mining towns along the new river Gorge - was abandoned. Today, you can visit Quinnimont and view the CSX railroad switching and holding yards, the remnants of the iron furnace, and formerly segregated churches built for the diverse miners working in Quinnimont.
The eight ghost towns on this list represent just a handful of the dozens of abandoned mining towns located throughout West Virginia. Visiting these towns is an incredible, hands-on way to learn about history - and to understand the forces that shaped our little corner of the world.
---
Thanks to our article sponsor!
Attorney Charles "Sonny" Johnstone is the managing partner of Johnstone & Gabhart. For more than 30 years, Sonny has represented thousands of West Virginians and businesses in a range of personal injury matters.
---
Sign up to receive a FREE copy of West Virginia Explorer Magazine in your email weekly. Sign me up!
Facebook Comments