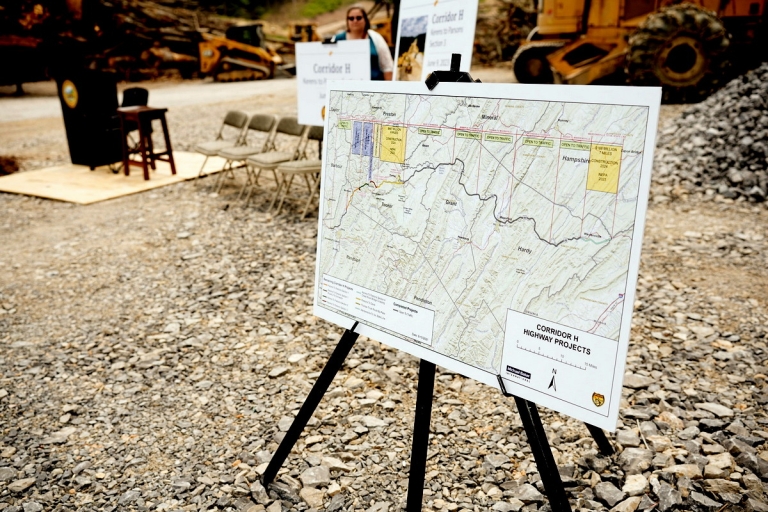 PARSONS, W.Va. — Officials in West Virginia have broken ground on one of the remaining sections of the US-48 expressway, opening more of the scenic route across the Allegheny Mountains in the northern and eastern state to east-west interstate commerce.
The route importantly provides greater access to the northern reaches of the Monongahela National Forest and the Canaan Valley, a top center for outdoor recreation in the northern Mountain State.
When complete, the expressway will link Interstates 79 and 81, traversing what's widely regarded as one of the most scenic regions in West Virginia. Currently, 113 miles of the expressway are open to traffic in West Virginia, and only 31 miles remain incomplete, including 15 miles under active construction.
Gov. Jim Justice joined W.Va. Department of Transportation officials for a groundbreaking ceremony to celebrate the start of work on the third section of the Kerens-to-Parsons project.
"I can tell everyone here one thing," Justice said. "My goal is for all of Corridor H to be under contract before I leave office. We're going to finish this road."
The term "Corridor H" refers to the expressway's designation as one of more than 30 transportation routes to be completed throughout the Appalachian Mountains in the eastern U.S. as part of the Appalachian Regional Development Act of 1965.
"As I've said over and over, the single most important project in our state right now is Corridor H," Justice said.
"Corridor H will connect all kinds of communities—from Parsons to Kerens to Davis to the state line and far beyond—so we can bring more and more prosperity to all of West Virginia. And not only will this project employ a bunch of people, but travelers will continue to spend all kinds of money in these communities long after construction ends."
Work will consist of grading and drainage work on an approximately three-mile section of the corridor beginning near the Cheat River Bridge, which is currently under construction.
At 3,300 feet, the Cheat River Bridge will be among the longest bridges in West Virginia. The four-lane bridge will link the 15-mile stretch of Corridor H between Kerens and Parsons with the section between Parsons and Davis.
The successful bid of $49,488,494 was made by A.L.L. Construction Inc. of Mount Storm, West Virginia.
Contractors are expected to move more than seven million yards of dirt to prepare the section of the highway for construction and paving. Work is expected to be complete by the fall of 2025. When completed, it will connect Interstate 79 at Weston, West Virginia, to Interstate 81 at Strasburg, Virginia.
U.S. Senator Shelley Moore Capito (R-W.Va.) called the initiative vital to the economic development of northern and eastern West Virginia.
"The groundbreaking of this key section between Kerens and Parsons marks a major milestone for this critical transportation project, and I'm thrilled for the positive impact it will have for years to come as we continue to expand and improve West Virginia's roads and bridges," Capito said.
As a member of the Senate Appropriations Committee and Environment and Public Works Committee overseeing the Federal Highway Administration, Capito has consistently pushed for the completion of the corridor and helped deliver funds to do so.
---
Sign up for a FREE copy of West Virginia Explorer Magazine in your email twice weekly. Sign me up!
Facebook Comments