Cairo, WV (West Virginia), a community on the north fork of the Hughes River in Ritchie County, was incorporated in 1895 by Scotch Presbyterians, who found water and fertile ground there for their crops, recalling the fertility of the Nile at Cairo in Egypt. Cairo is an chief point along the North Bend Rail Trail, home to shops that cater to hikers and cyclists.
Lodging near Cairo, West Virginia
Parks & Public Recreation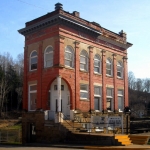 The following parks and public recreation areas are located within 20 miles of the community.
Location
Cairo, WV, is located approximately 10 miles west of the county seat at Harrisville, West Virginia, and 25 miles east of Parkersburg, West Virginia.
Map of Cairo, West Virginia
Regional Information
Cairo, WV, is located in the Heartland Region of northwestern West Virginia near the Mid-Ohio Valley Region.